Measure Studio
How to Create Effective Social Media Benchmarks for Your Business, Brand, or Agency
Social media benchmarking is the process of setting and measuring specific performance benchmarks for a brand's efforts across various social platforms and accounts.
These benchmarks could be related to metrics such as engagement rate, reach, or impressions, all of which are available with Measure Studio. The goal of social media benchmarking is to help brands understand their performance and identify areas for improvement.
To create effective benchmarks, brands and agencies should first define their goals for social media, determine the metrics that will be used to measure success, establish baselines by collecting data on current performance, set targets for future growth, and monitor and review benchmarks regularly.
And, once again, you can perform all that within the Measure Studio app.
By regularly benchmarking social media performance, brands and agencies can get a better understanding of what's working and what isn't, and make data-driven decisions to improve their future efforts.
Here are a few steps that brands and agencies can follow to create effective social media benchmarks;
Define your goals: The first step in creating benchmarks is to define your goals. These goals could be related to brand awareness, customer acquisition, engagement, or any other metric that is important to your business.

Determine the metrics that will be used to measure success: These metrics might include things like engagement rate, reach, website traffic, or conversions.

Establish baselines: Once you have your goals and metrics in place, you'll need to establish baselines by collecting data on your current performance. This will allow you to see how your social media efforts are currently performing and set benchmarks for future growth.

Set targets: Based on your goals and current performance, you can then set targets for your social media benchmarks.

Monitor and review your benchmarks regularly in Measure Studio: It's important to regularly monitor and review your benchmarks to see how you're progressing towards your goals. If you're not meeting your benchmarks, you may need to adjust your strategy or tactics in order to improve your performance.
How does Measure Studio allow brands and agencies to monitor and review social media benchmarks?
Each published post is analyzed in real-time and compared against your account's existing data and metrics. From there it's simple to select the desired posts and compare.
The early hours following publishing are the most critical in determining a post's ultimate success, and by properly monitoring against previous benchmarks managers can identify how to better allocate paid boosts and generate future strategies.
In Measure Studio, social media managers are able to benchmark their content against a wide variety of metrics, both paid and organic, across multiple platforms.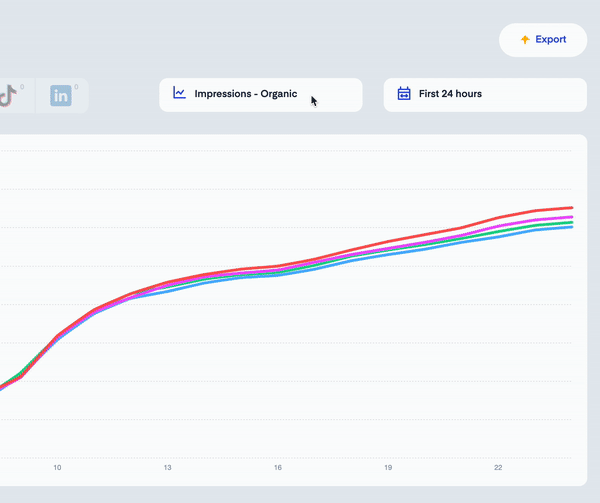 This provides users greater insight into each piece of content to better identify trends and opportunities. These numbers and benchmarks are uniquely designed to help social media managers achieve their goals by better understanding their performance and how to maximize it.
Begin building your benchmarks today with a free 14-day trial of Measure Studio or schedule a demo for a closer look at how it works.